One sees a little girl asleep on a bench tired after a day on the South Beach, Durban. About what could she be dreaming?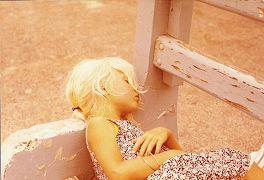 Huge pink candy floss, or perhaps playing herself on the stage of a huge audience in the Bellville Civic centre auditorium, dancing her examination work on the still new Baxter theatre, modelling clothes for some of the country's top photographers, playing the piano in a documentary on making pianos? Could she possibly be dreaming of being close up to the elephants and the Knysna bush where she takes part in a film based on Dalene Matthee's novel, Circles in the Forest, or singing the part of one of the Von Trapp children in The Sound of Music for two seasons in the Nico Malan (now Arts Cape) theatre? Here, she also acted and sang in Pieter Fourie's drama, Die Joiner. Could she possibly have dreamt about doing voice-over and acting in radio dramas standing on a box to reach the microphone before she even reaches high school?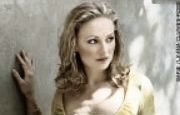 Dorette Potgieter made her debut at the tender age of five in the Afrikaans production 300-Plus, celebrating the tercentenary of Jan van Riebeeck's landing. At age six she was acting and singing in the musical production of Gigi, followed by The Sound of Music as Brigitta. She worked on radio dramas and various dubbings for South African Television from 1980. It was in 1989 that Dorette made her debut in film, playing the young Jane in Circles in the Forest, directed by Regardt van den Bergh. Some may remember her as the Timotei girl also launched on SA television in 1989.
She slipped seamlessly from Afrikaans to English, from acting to dancing to modelling to singing. This she continued in high school - getting top marks for her schoolwork while she managed the lead part in Jennifer Louw's ballet production of Mary Poppins. In spite of a fear of heights, she was lowered on a trapeze onto the stage floor, seemingly floating from the sky with her umbrella!

At sixteen, she won a countrywide hair competition with prizes that included a motor car. She sold the car, finished her remaining two years of school in one at a private school and her career took off!

After matriculating with Drama and Ballet, she pursued a career in theatre, film, and international modelling. She also found time to attend Drama at the University of Stellenbosch, Musical Theatre at Pretoria Technikon, the UCT Ballet School, and more recently a 6-week Film Acting Masters Course at AFDA in Cape Town.
"Some dreams are indeed made of this kind of success".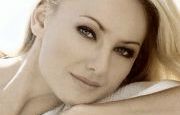 She became a South African soap star in 1997 & 1998 as the "ice queen" Susan Bosman in Egoli Place of Gold, after which Dorette pursued her acting career on the International market. More recent television leads includes: Voete van Goud directed by Rob Riley, Soutmansland and Vleisvreters directed by Gerrit Schoonhoven, Fishy Fashuns on SABC 2, Charlie Jade as Mrs. Ajax (Canadian co-production for SABC 3), Madam and Eve produced by Roberta Durrant for Penguin Films, Villa Rosa as Wanda Retief, the bitch of this popular kykNET/Mnet series, a cameo appearance in Sorted - for SABC3 directed by Craig Freemont, and Going Up, as Leticia Cummings for SABC2.


Besides smaller parts in films, documentaries and corporate presenting, she also played lead parts in three films opposite well know actors like Jerry Springer, Armand Assanté, Christopher Lambert, Greg Wise and Patrick Bergen.

These were Citizen Verdict, directed by Philippe Martinez opposite Jerry Springer, The Piano Player - opposite Christopher Lambert and directed by Jean Pierre Roux, and as Vicky Young - the lead in Africa, opposite Greg Wise and directed by Paul Matthews.

In between shoots and auditions, she busies herself with a cabaret at local Arts Festivals, does charity work on the Cape flats, lobbies passionately for a toxic free environment, paints, writes poetry, and gives method-acting tuition to an eager young fashion model.
To be talented is one thing. To be successful means dedication, hard work, and discipline. Dorette Potgieter was prepared to add these ingredients to her creative life to be able to do what she loved.